OCT 13, 2021 1:30 PM PDT

This presentation "SARS-CoV-2 Related Workflow and Solutions: Detection and Genotyping" will focus on strategies for the testing and detection of SARS-CoV-2, including multiplexe...
OCT 13, 2021 10:30 AM PDT
Severe SARS-CoV-2 infection often leads to development of acute respiratory distress syndrome (ARDS), with profound pulmonary patho-histological changes post-mortem. In this study, we utiliz...
OCT 13, 2021 9:00 AM PDT
Join me, an applied epidemiologist with boots on the ground, as we review key discoveries learned from the reopening of sports, entertainment and the arts. The four pillars of reopening incl...
APR 14, 2021 4:30 PM PDT
When SARS-CoV-2 reached the United States in late January 2020, Labcorp immediately began development of an RT-PCR test to aid in detection and diagnosis of COVID-19 in infected patients. As...
APR 14, 2021 3:00 PM PDT
As of March 2021, SARS-CoV-2 has infected 115 million people and caused over 2.56 million deaths. The emergence of mutants associated with changes to transmission of SARS-CoV-2 has shown tha...
APR 14, 2021 1:30 PM PDT
Several SARS-CoV-2 variants are circulating globally. The most prominent variants of concern, including the B.1.1.7, B.1.351 and B1.1.28 lineages, not only carry a constellation of genetic m...
DEC 03, 2020 4:30 PM PST
This drug development program is designed to create a family of broad-spectrum, pan-coronaviral drugs that respectively inhibit multiple key enzymes required for viral replication. By target...
DEC 03, 2020 3:00 PM PST
The presentation will provide a review of major emerging zoonotic virus outbreaks from Hendra virus in 1994 in Australia to SARS-CoV-2 in China 2019 and our latest findings on bat biology an...
DEC 03, 2020 1:30 PM PST
The University of Louisville Infectious Diseases Laboratory (IDL) is a high-complexity, CLIA-certified laboratory in Louisville, KY. The IDL adopted the Luminex ARIES® platform in 2016 f...
DEC 03, 2020 12:00 PM PST
The COVID-19 pandemic continues to have a grip on worldwide health and global economics. Advancing molecular diagnostics is central to the diagnosis and prevention efforts surrounding the de...
DEC 03, 2020 10:30 AM PST
The severe acute respiratory syndrome coronavirus 2 (SARS-CoV-2) emerged in December 2019 and has spread globally, causing a pandemic of respiratory illness designated coronavirus disease 20...
DEC 03, 2020 10:30 AM PST
When producing a quality vaccine, all manufacturers must confirm the purity as well as the stability of their formulation and final product. Sample quantity and measurement time are often th...
DEC 03, 2020 10:00 AM PST
Cases and deaths continue to increase steadily in most states. The pace of increase is faster than we expected, leading us to revise upward IHME forecast of deaths and cases into the future....
DEC 03, 2020 9:00 AM PST
Dynamic models of infectious disease systems are often used to study the epidemiological characteristics of disease outbreaks, the ecological mechanisms and environmental conditions affectin...
DEC 03, 2020 9:00 AM PST
To execute COVID-19 testing strategies effectively, labs need to procure reliable components of the workflow without interruption – from reagents to equipment and consumables at the sc...
DEC 03, 2020 7:30 AM PST
Learning Objectives: 1. Define SARS-CoV-2 immunity, antibody testing, and discuss what is known about the meaning of these tests 2. Identify challenges in doing research during social distan...
DEC 03, 2020 6:00 AM PST
This talk goes over the importance of face masks as a pillar of COVID-19 pandemic control. First, we review the epidemiologic evidence for how face masks reduce COVID-19 transmission from st...
Antibody tests are important tools to assess the efficacy of vaccine candidates and to derive suitable vaccination modalities. High specificity and sensitivity are of great importance for th...
SARS-CoV-2 had spread with speed unknown in recent history across the globe, sickening >50M people and killing over 1M. By far the most of the severe cases and deaths were registered amon...
The fast spread and deadliness of SARS-CoV-2 has sparked much interest in understanding the underlying genomics and evolutionary patterns of this 30,000bp Coronavirus. Since the first report...
Next-Generation Sequencing (NGS) has been a key technology during the COVIID-19 pandemic and has helped researchers characterize the SARs-CoV-2 genome, perform strain-typing for molecular ep...
Learning Objectives: 1. Learn what RNA and DNA vaccines are and why they are ideal vaccine strategies to respond rapidly to pandemics 2. Understand the key requirements of an effective vacci...
In this talk, Dr. Adalja will discuss the coronavirus family in general highlighting its history. Emphasis will be placed on why this viral family has pandemic potential. Learning Objectives...
NOV 13, 2020 10:00 AM PST
C.E. CREDITS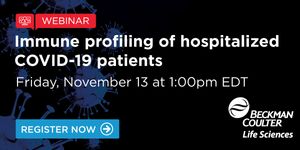 NOV 13, 2020 10:00 AM PST
Date: November 13, 2020 10:00am PST, 1:00pm EST Coronavirus disease 2019 (COVID-19) is currently a global pandemic, but human immune responses to the virus remain poorly understood....
SEP 17, 2020 4:30 PM PDT
The COVID-19 pandemic has resulted in demand for population scale pathogen screening. The most sensitive and reliable method for detecting SARS-CoV-2 remains reverse transcription PCR (RT-PC...
SEP 17, 2020 4:30 PM PDT
T cells are the adaptive immune system's first responders to any virus, circulating in the blood to detect and quickly multiply to attack the virus, and also support the development of...
SEP 17, 2020 3:30 PM PDT
There are an urgent need for antivirals to treat the newly emerged SARS-CoV-2. We set out to develop cell-based screens to repurpose existing drugs for use against SARS-CoV-2. Our goal was t...
Opens in a new window Opens an external site Opens an external site in a new window