Severe SARS-CoV-2 infection often leads to development of acute respiratory distress syndrome (ARDS), with profound pulmonary patho-histological changes post-mortem. In this study, we utiliz...
APR 22, 2021 5:00 PM CEST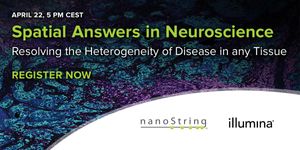 APR 22, 2021 5:00 PM CEST
Date: April 22, 2021 Time: 8:00am (PDT), 11:00am (EDT), 5:00pm (CEST) System transcriptomics of the schizophrenia brain - Phillip Khaitovich Schizophrenia tops the psychiatric disorder l...
APR 21, 2021 5:00 PM CEST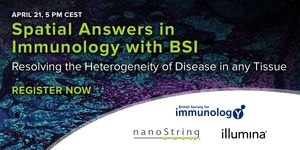 APR 21, 2021 5:00 PM CEST
Date: April 21, 2021 Time: 8:00am (PDT), 11:00am (EDT), 5:00pm (CEST) Spatial Answers Trilogy - Spatial Answers in Immunology Immunology Researchers share their Spatial Discoveries in SARS-C...
APR 20, 2021 5:00 PM CEST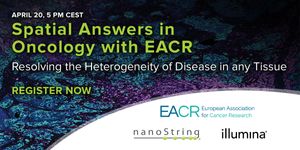 APR 20, 2021 5:00 PM CEST
Date: April 20, 2021 Time: 8:00am (PDT), 11:00am (EDT), 5:00pm (CEST) Spatial Answers on Oncology - Professor Joan Seoane Prof. Joan Seoane, Group Leader and Director of the Translational Re...
APR 14, 2021 6:00 AM PDT
Two studies on the immunology of COVID-19 are included in this webinar: First, Eugenia Ong, PhD with the Viral Research and Experimental Medicine Centre @ SingHealth Duke-NUS (ViREMiCS) and...
FEB 24, 2021 12:00 PM PST
With an introduction by Sarah Warren, the Senior Director of Translational Science, this webinar will open by providing a brief technology overview of NanoString Technologies. Dr. Warren wil...
DEC 03, 2020 10:30 AM PST
The severe acute respiratory syndrome coronavirus 2 (SARS-CoV-2) emerged in December 2019 and has spread globally, causing a pandemic of respiratory illness designated coronavirus disease 20...
OCT 07, 2020 10:30 AM PDT
Tumor phenotypes are dictated not only by the neoplastic cell component, but also by the tumor microenvironment (TME), which is inherently immuno-suppressive, is equipped to hamper effector...
JUN 17, 2020 1:30 PM PDT
Understanding the complex interplay between a pathogen and the host response is important to developing effective vaccines and therapeutics. The nCounter® Analysis System and GeoMx®...
MAR 11, 2020 10:30 AM PDT
The accumulation of neurotoxic amyloid beta peptides and/or neurofibrillary tangle formation are key pathological hallmarks of neurodegenerative diseases including but not limited to Alzheim...
FEB 26, 2020 12:00 PM PST
Digital spatial profiling (DSP) on the NanoString GeoMx platform enables high plex molecular profiling of clinical tissue samples. This new profiling strategy enables deep insights into the...
OCT 10, 2019 10:30 AM PDT
Osteosarcoma (OS) is the most common bone tumor in pediatric and adolescent/young adult patients. Over the past three decades, significant improvements in the survival rates or therapeutic ap...
MAR 14, 2019 9:00 AM PDT
Late-onset Alzheimer's disease (LOAD) is the most common form of dementia worldwide. To date, animal models of Alzheimer's have focused on rare familial mutations, due to a lack o...
FEB 27, 2019 12:00 PM PST
Surgery is the first line of treatment for Stage III melanoma. Often adjuvant therapy is administered post-surgery, which can include weeks of radiation, chemotherapy, targeted drug therapy,...
MAY 10, 2018 10:30 AM PDT
Cell line screening studies require highly efficient protocols for studying many samples in parallel. We have developed a lyse-and-go protocol for digital gene expression profiling of u...
MAY 09, 2018 10:30 AM PDT
Mesenchymal stem cell (MSC)-derived exosomes mediate tissue regeneration in a variety of diseases including ischemic heart injury, liver fibrosis, and cerebrovascular disease. Despite an incr...
MAR 14, 2018 12:00 PM PDT
Some of the most significant hurdles faced by neuroscientists in the field of neurodegenerative disease research when seeking to acquire genetic information include sample accessibility, repr...
FEB 22, 2018 9:00 AM PST
The field of melanoma has been transformed by the parallel development of effective immune and targeted therapies. There is now strong evidence of cross-talk between oncogenic signaling...
NOV 09, 2017 9:00 AM PST
Transcriptional profiling of the tumor microenvironment can lead to insights about the interaction between the tumor and immune system. This facilitates investigation of immune evasion mechan...
OCT 11, 2017 1:30 PM PDT
Recent advances in flow and mass cytometry have greatly expanded the number of immune cell parameters that can be interrogated, resulting in an improved understanding of the immune system het...
Opens in a new window Opens an external site Opens an external site in a new window